Like most kids my age would have, I assumed that because I was in the advanced fourth-grade reading-class I was smarter than everyone else. That is, not only had I achieved more, but I also had more potential. I was going places.
I don't remember ever taking a test. But I assumed that there was one and maybe I had forgotten about it. Or maybe there wasn't, maybe there was some secret rubric that I had maxed out on due to my luck, pluck, and virtue. It didn't matter. I had potential and I was going places and that was that.
Or maybe not.
A 1994 study led by Aaron Pallas compared the standardized test scores of first graders to their reading-group placement. The results were shocking.
One would have expected that the test scores for the advanced reading group would have been the highest, followed by the normal ability group, followed by the remedial reading group. Instead, Pallas found that the test scores of all three reading groups were virtually identical. Students in even the most advanced reading group had only a slightly greater chance of having greater than average test scores.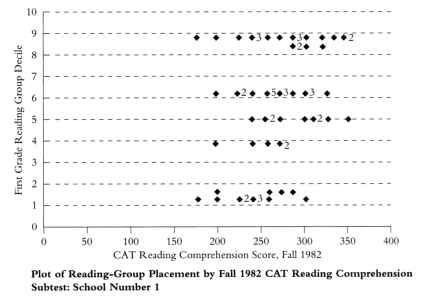 The implications here are huge. To quote from the study, "Ability grouping in classrooms has traditionally been viewed as a rational way for schools to organize instruction. There is a growing body of evidence, however, that (1) ability-group placements are fallible, in that students with similar levels of academic potential may be placed in different ability groups, and (2) that placement of children in different ability groups may heighten inequalities in children's academic achievement."
"We found that first-grade ability-group placement can have persistent effects on children's achievement in school over a period of several years and may shape the expectations of children's performance held by significant others, such as parents and teachers. Whether these effects are instructional, social, or institutional, they are real, and they have implications for children's future schooling trajectories. […] Instructional grouping may have the unintended effect of increasing inequalities in educational outcomes, largely by creating inequalities in educational resources and rewards."
That is, students who started off at exactly the same level of measured ability in first grade will have vastly different levels of ability by the end of high school. In my own experience I know that my peers in my advanced fourth-grade reading group were the same ones that got into the best colleges almost a decade later. Were we really smarter to begin with, or were we made smarter after being accidentally selected at random as a by-product of a broken system?
Pallas himself suggests the latter: "Children in higher-ranked reading groups were perceived by their parents and teachers as more competent than were similar children in low-ranked groups, often independent of their actual performance."
Not to get all angsty, but I do often wonder how much of my identity– intelligence, personality, experiences, etc. – has nothing to do with anything intrinsic within me, but is rather the result of a series of stochastic events and selections.
That's what I like about being an entrepreneur; going forward I steer.
Pallas et al. "Ability Group Effects: Instructional, Social, or Institutional?" Sociology of Education 67 (1994). Fig. 1, p. 36.